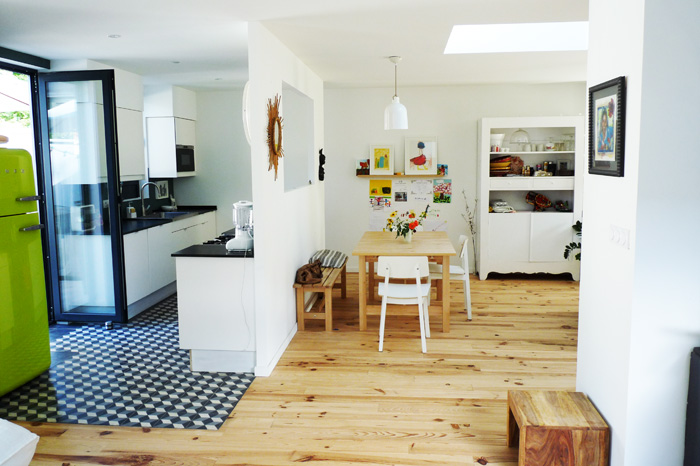 Natural light and its impact on the quality of life of the occupants and on the energy needs is an important element in the design, reflecting the orientation of the terrain and the external environment.
The characteristics of certain areas will solicit the creation of large bay windows to enjoy the sun to the south or a beautiful view, while functional rooms (garage, laundry, cellar) will be set to the north or sides exposed to the wind to reduce energy losses and create a more ecological house that reduces the long-term costs.
The layout of rooms and volumes of a house
A high ceiling of more than 2.50 m – 8 feet – generates a very pleasant impression of space, it allows for the creation of large bay windows that offer exceptional views on the outside or to create mezzanines that maximize the use of certain spaces. But the ceiling height also generates higher heating (or cooling) requirements. So special care must be given to appropriately arbitrate between desires of space and heating budget with the overall design of a house.
The same reasoning applies to elongated volumes: the large surface area of ​​the walls and ceilings, and even more the windowed surfaces will drain energy in or out. If large rooms with large windows create a beautiful brightness and an impression of space, they also increase the heating bills. It is therefore important to use the right building materials by ensuring an adequate insulation – insulation of walls, double or triple glazing for windows – and to think rooms as compact as possible, avoiding the creation of corridors, lost spaces for the habitat but which must still be heated.
In general, it will also be necessary to consider the grouping of rooms according to their functions, night rooms, day rooms and ancillary rooms, in order to improve heating management according to the different periods of the day, and maximize the use of the best spaces for living rooms. A loft-type large multi-functional volume, can also be a great way to maximize space, if the desire for openness encounters fewer constraints and the climate or the local environment allow for a lesser loss, or entrance, of heat.
In all cases, it will be necessary to design the rooms of a house with the furniture that will equip it and the necessary storage in mind. Windows or doors will not always be judicious in certain places and each room will require certain space constraints for its furniture or equipment. Of course, thanks to his expertise in the design and construction of houses, an architect will be able to take all these constraints into account and design a house that suits its owner's needs.